Picture your bathroom sink—your vanity, if you will. Imagine the end of the day as you wash off your makeup or maybe just your SPF and the general oil and grime of the day (and you better be double cleansing… I'm watching you!). As you finish up, you reach for your towel that is hung beside you to dry off your face.
What else do you use that towel for? Maybe to dry your hands each time you wash them? Do your guests use that towel when they visit? When is the last time you changed the towel? These are all questions we should be asking ourselves before rubbing that fabric all over our clean faces. Unfortunately, most people do not take the time to consider these things.
The "all in one" hand towel that so many people use for hand drying, washing faces, and whatever else that harbors so much bacteria. Theoretically, yes, you use it to wipe things that have just been cleaned. However, it still sits out in the open all wet collecting bacteria and germs.
How can we combat this? Can it really be realistic to have enough towels to replace multiple times a day every day for each face and hand wash? That sounds like a lot of laundry and simply a huge quantity of towels.
Enter: Clean Skin Club. This company has taken the convenience of face wipes and single-use towels and has found a way to make it accessibly sustainable. Clean Skin Club has developed 100% biodegradable and compostable towels as well as wipes that are also fully biodegradable and compostable.
Whether you are doing your full, multistep skincare routine and need a clean and fresh towel to dry off with, or it's a rare night where you just need to gently wipe off your makeup really quickly before bed (it's okay, we all have those every once in a while), Clean Skin Club has something for you!
Clean Towels XL
Thinking back to that scene in the bathroom, how nice would it be to have a fresh, untouched towel to reach for? Some might be thinking, if you want something like that couldn't you just use a paper towel? I mean, theoretically, yes. However, something like a paper towel does not provide the plush softness a normal towel would. In fact, that texture could be rather abrasive for the sensitive skin on the face. Some people's skin may be more resilient, but I know my own skin would not be happy with that scenario!
That's why the brilliant minds over at Clean Skin Club came up with their Clean Towels. Here at the Nue Trend, we particularly enjoy the XL Clean Towels.
After we've spent so long cleaning off the grime from the day, the last thing we want to do is wipe more bacteria and germs all over our face! These towels from Clean Skin Club provide a way for us to cleanly dry off our faces after all that cleansing.
These towels are made from viscose that has been sustainably sourced from eucalyptus. The eucalyptus pulp then undergoes a meticulous process of washing, cleaning, stretching, and pressing. This process results in a super soft, tear and shed resistant, and absorbent towel that is gentle on the skin. Don't take my word for it, though. You can read even more about this process and all of the fabric certifications here.
Another aspect that makes these towels unique is their versatility. They're not only game-changers for simply drying our faces at the end of our routine, you could also use them to help with makeup removal! Apply some micellar water or other makeup removing liquid and these towels are so durable and soft they can be a great substitute for a cotton round or makeup wipe. Still looking for the convenience of a makeup wipe? More on that later…
If you'd like to hear more about these special towels, you can head to our Youtube and watch our video about them here.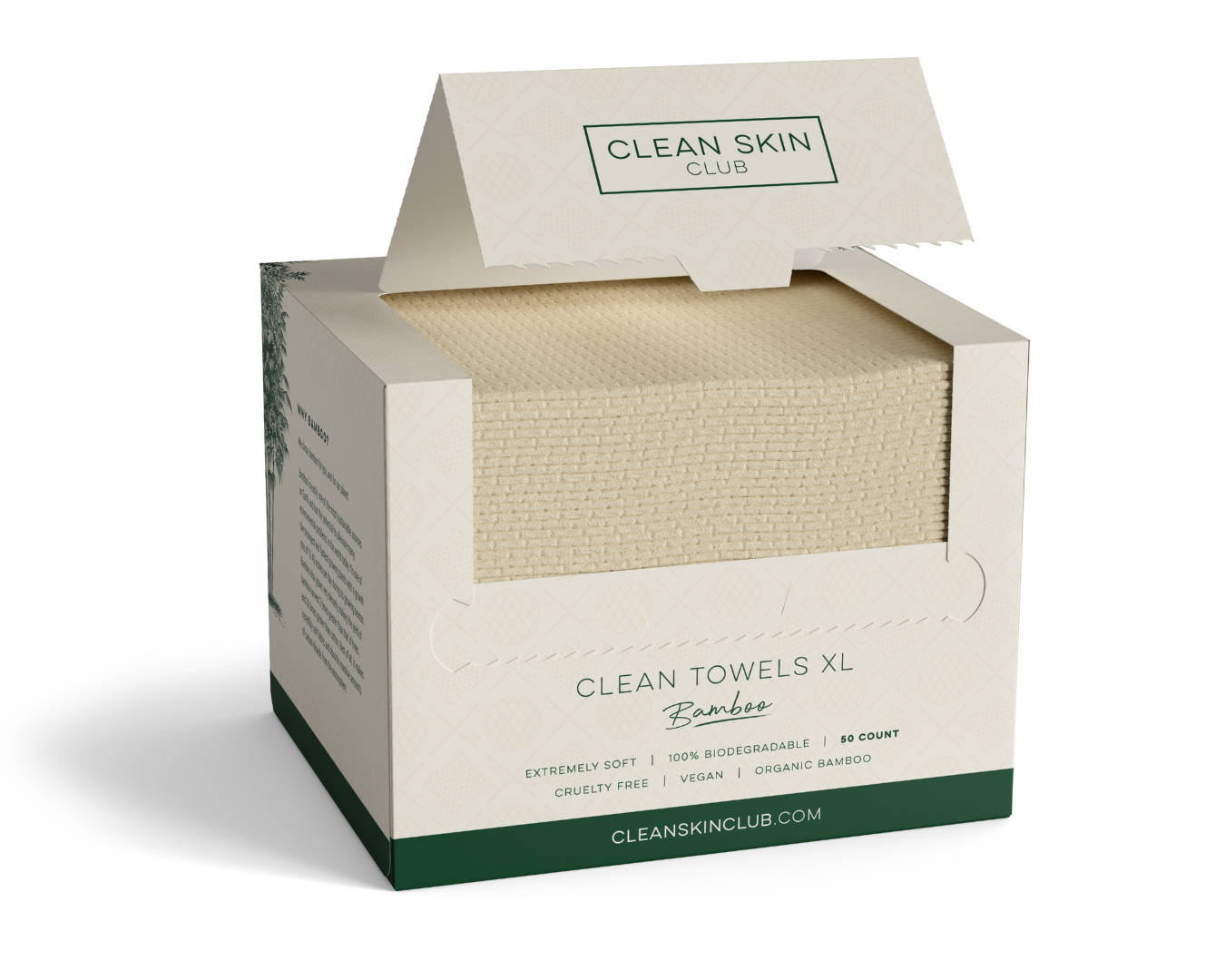 Clean Towels XL Bamboo
Just when we thought Clean Skin Club had totally changed the game, they took it a step further with their Clean Towels XL Bamboo. These towels offer all the amazing things the original towels do, but level up the benefits!
These towels made of viscose sourced from bamboo are an even more luxurious and green version of their eucalyptus-based counterparts. Clean Skin Club already does their due diligence to ensure the sustainability but have gone the extra mile with this product.
Bamboo is the fastest growing plant in the world which makes it a perfect choice for those of us seeking to make the absolute best choice in terms of sustainability. We can already feel confident in this while using Clean Skin Club products, but having the option to choose bamboo towels makes it even better!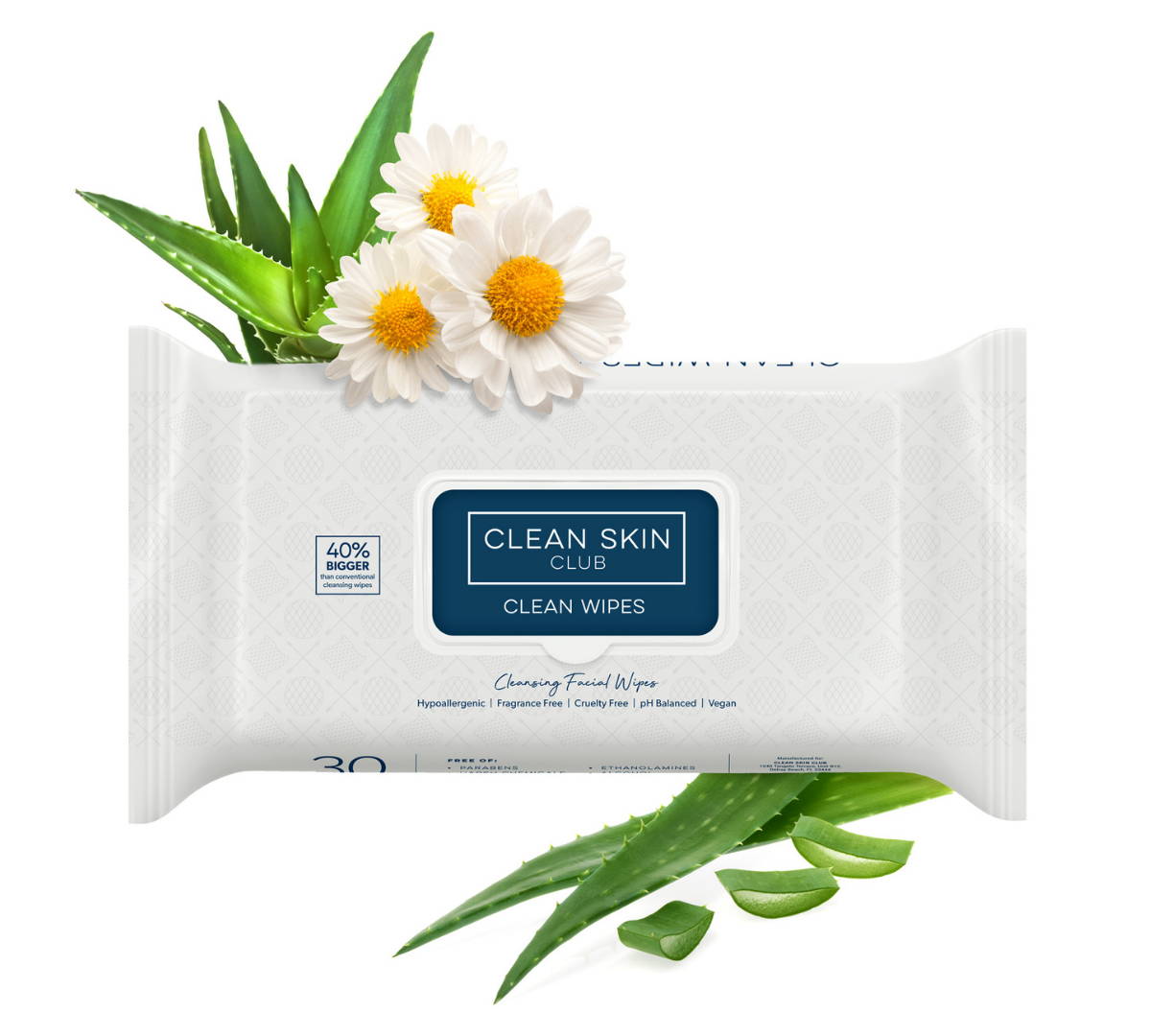 Clean Wipes
I know we've all had those late nights where we simply do not have the energy to do our full multi-step skincare routine and may instead just turn to some trust old makeup wipes to do the trick. No judgment here, we've all done it! I for one have used my fair share of Neutrogena wipes in my day. Guilty as charged! Unfortunately, however, Nuetrogena wipes and other similar products are not only filled with harmful ingredients, but these traditional wipes are not recyclable or compostable.
That's why we love these Clean Wipes from Clean Skin Club! We can feel good about the impact our skincare decisions are making on the earth while also feeling great about the ingredients we're putting on our skin.
Clean Skin Club has included a chart on their website indicating each and every ingredient, what they are used for, and why the company loves them. Instead of most brands that you can find lining the shelves of your local Walmart or Target that probably don't give a second thought to the ingredients they add, Clean Skin Club has shown the way they have been intentional in choosing each ingredient. Just to mention a few: aloe vera extract, vitamin E, and niacinamide!
Another way that Clean Skin Club has set its wipes apart is by featuring a dual-sided fabric. One smooth side and one textured side that can be used to lightly exfoliate or remove stubborn makeup.
Since Clean Skin Club has done the hard work to ensure that their wipes are safe and gentle, they are even safe to use on sensitive skin, children, babies, and even pets! We love having multipurpose products that we can feel safe about using on everyone in the home.
We talked a little more about what makes these wipes so special over on our YouTube channel, which you can find here.
Environmental Impact
At this point you may be thinking to yourself, "okay, this all sounds great, but how is using disposable items like these going to impact the environment?". That is a completely valid concern and I am so glad we are living in a world where consumers are asking these important questions!
As we've discussed briefly, all of Clean Skin Club's products are 100% biodegradable and compostable. This is huge because, typically, these types of products may end up sitting in landfills and creating a lot of waste. However, Clean Skin Club's decision of using viscose sourced from eucalyptus and bamboo means that they are using materials that do not leave the waste that non-biodegradable products would.
The choice to use bamboo is especially environmentally significant because bamboo is the second-fastest growing plant on this earth, surpassed only by kelp. This is important because using it as a material source means not using sources that are not as renewable.
Best of all, Clean Skin Club has committed to planting a tree with every order! They achieve this by partnering with 400Trees. We love seeing companies taking extra steps like this because it shows they are truly committed to the message they are portraying. Clean Skin Club is doing its part to replenish this earth of the trees it desperately needs.
Final Thoughts
Now, let's think back to the image we painted in our minds at the start of this: we have freshly cleansed, beautiful skin and it's time to dry it off. With the products brought to us by Clean Skin Club, we don't even have to think about bacteria and germ-ridden hand towels or washcloths anymore.
Here's our new reality: we finish up cleansing our skin and reach for a fresh Clean Towel. We can sink our faces into a soft, clean, and gentle towel without having to worry about spreading acne-causing bacteria all over the skin we just cleansed.
Or, if it's just one of those nights where we need a quick fix before bed, we can reach for a Clean Wipe and rest easy knowing each ingredient is non-toxic and safe for our sensitive skin.
The cherry on top of all of this? These products are fully compostable and biodegradable. Not only that, but Clean Skin Club also has their 400Trees promise in order to go the extra mile in taking care of our planet.
So, the next time you reach for your bacteria-filled towel or your non-biodegradable wipes that are filled with toxic and bad-for-your-skin chemicals, remember the eco-friendly options we have at our disposal!
*This post contains affiliate links which means that if you make a purchase via one of the links, I will receive a small commission, at no additional cost to you. Thank you so much for reading and supporting our blog!